There's nothing I love more than meeting – and learning from – inspirational, insightful women. In my experience as a marketing executive, a nonprofit board member, a mom, and whatever other hat I might wear on any given day, I'm blessed to encounter some of the most bad-ass boss ladies you'll ever meet. And I plan to interview some of these amazing ladies on this blog.
My first interview is with Jennifer Zick, an accomplished marketer who has held senior marketing roles at a variety of notable firms in the Twin Cities. She has now launched her own operation, including a remarkable program that connects business people with volunteer initiatives.
Q: You've held senior marketing roles at multiple firms, including Magnet360, and have now launched Authentic Brand, which "helps growing companies get marketing traction through authentic strategy and intelligent execution." I'm a big believer in the power of "authenticity." Why do you believe that's such an important topic?
A: Our world today is so cluttered and noisy. We are overrun and overwhelmed by messaging and media: at home, at the office and everywhere in between. We are drinking from a constant firehose of input, yet thirsty for meaningful engagement. While new technologies have made it easier for brands to reach their audiences, they have also pushed communication to a break-neck pace. More content, more quickly, across more channels. All of which has not necessarily resulted in more value for the recipient. People, whether in their roles as consumers or business buyers, are growing weary of the brand onslaught, and are ready for something different. Something more timeless and meaningful. In my opinion, that something is authenticity. We know it when we encounter it. It stands out from the crowd. It rings of truth. It has guts. It has a purpose that is bigger than profits. It's a place where you want to work. A company you want to buy from. An experience you want to have again. And it's consistent over time, regardless of shifting trends. Authenticity is what makes a brand believable. It is what makes a brand a brand.
Q: Through Authentic Brand, you host and organize a series of events called Two or More, which you describe as a "community service movement." Share a bit about Two or More and how people can get involved.
A: Two Or More is a community of businesspeople, collectively sharing our time and talents through volunteer initiatives and grassroots projects that benefit our local and global communities.
We do quarterly service events in support of local non-profits and community-focused organizations, and the events are wide open to any business professional who wishes to attend (based on available spots). Volunteers can sign up to receive event invitations, and can attend whenever their schedule allows, with no strings attached. We've been very fortunate to have the support of local businesses who have offered to sponsor events by hosting lunch or happy hour for our volunteers, and/or making a direct donation to the charity of focus. It's been inspiring to watch individuals and businesses step up to join the movement and make an impact.
Currently we serve in the Twin Cities metro area of Minnesota, because that is where I live and where my business — and the majority of my network — is based. Eventually, as this movement grows, I envision Two Or More communities springing up across the country, led by volunteer organizers or small businesses who share a common commitment to giving back and connecting local business people who share volunteerism values. In the meanwhile, we have a lot of room to grow here in Minnesota, and we welcome any businessperson to volunteer with us, or any business to sponsor an event. (All sponsorship contributions go directly to volunteer appreciation or to the organization we're supporting.)
Q: What made you decide to launch Two or More?
A: The idea came to me about three weeks into the start of my business. I was building my business plan, and laying out Authentic Brand's corporate values, the first of which is "Service & Collaboration." I thought to myself: How can I make a meaningful service impact when (at the time) I was just a team of one? It dawned on me that though I was a very small business I have a very strong network. Certainly there were other independent consultants, small businesses, remote team members, or even enterprise employees that did not have access to a corporate volunteer program, and would value the chance to be part of a diverse group of business professionals who shared volunteerism values. So, I tested the idea with a post to LinkedIn, letting my network know that I'd be setting up some service events, and asking if anyone would like to join my rag-tag team of volunteers. I got a fantastic response to the idea, and that was the catalyst moment that became Two Or More.
Q: How do you identify which organizations and causes to support through Two or More?
A: This has been one of the more challenging aspects of building the program. My goal is to identify non-profits and community-centric causes that can provide turn-key service projects for groups of 20 to 80 volunteers. We can bring the hands and feet, but we don't have the infrastructure to gather supplies, provide space, or do detailed project management. So we look to partner with organizations that have a strong process in place to activate larger groups for short-term projects; usually two to four hours per session, though we have also done full-day events. It's also helpful if the non-profit allows groups to schedule many months in advance, since our program relies on having time to promote and recruit volunteers.
Organizations we've supported in our first year include Feed My Starving Children, Habitat For Humanity, Second Harvest Heartland, and Books For Africa. On May 24th, we'll be doing an environmental project at Lyndale Gardens near Lake Harriet. Later this summer, we'll be investing in the next generation of service-focused leaders, with a family friendly event at Feed My Starving Children. I'm currently scoping out ideas for a special holiday event, and open to ideas!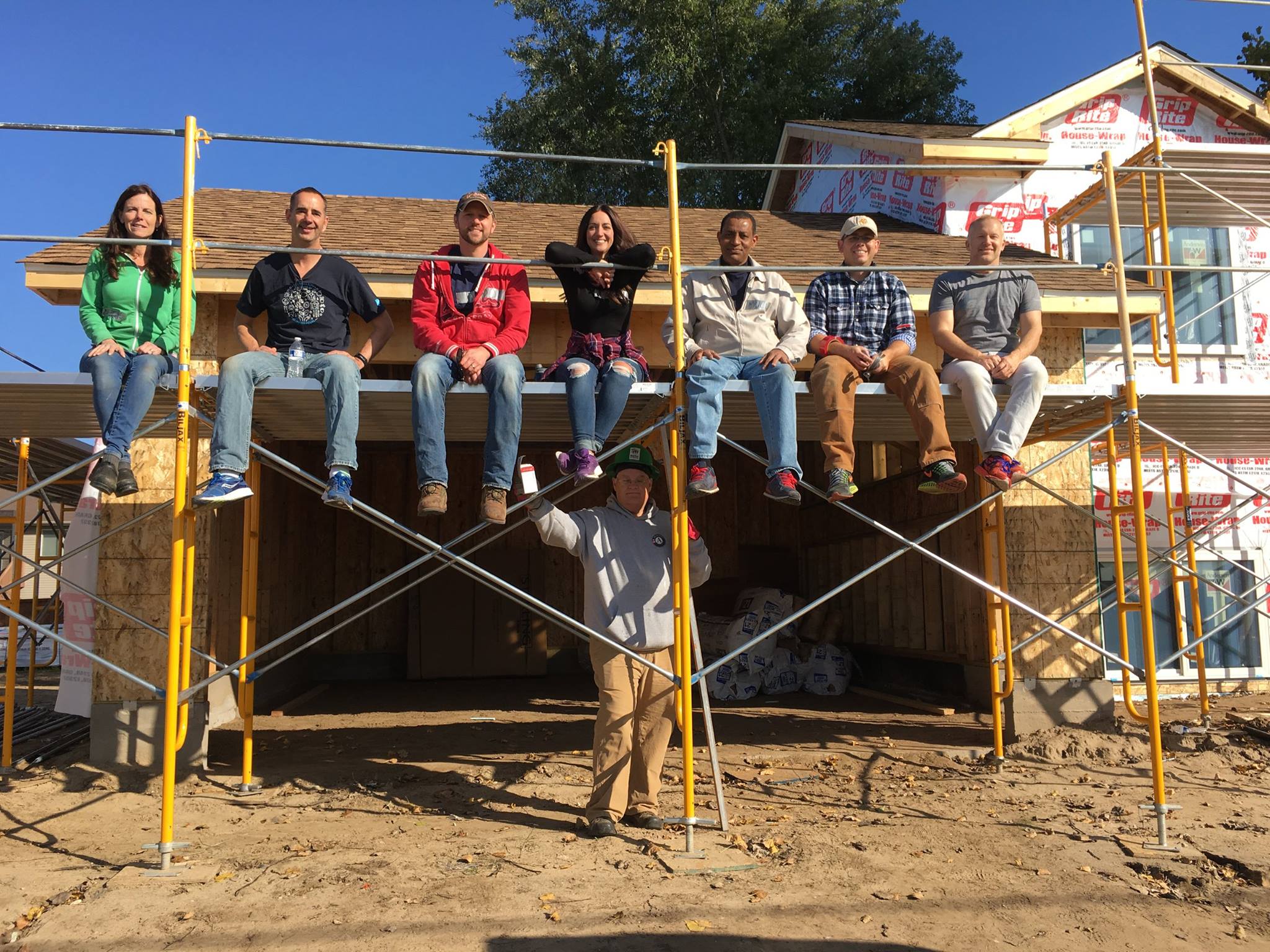 Q: How did your previous marketing roles inform your decision to create Two or More?
A: My years at Magnet 360 (originally named Reside) were the foundation for understanding that for-profit businesses could stand for something greater than the bottom line. I was fortunate to be one of the earliest employees in the company, and was part of the team that spearheaded our community investment through the pro bono work that we did for several non-profits, and the fundraisers we led for many others. Through our "Cocktails for a Cause" event series, we solicited non-profit nominations from our employees and customers, tapping into the causes they cared most about in the world, and together raised tens of thousands of dollars that were re-invested in our community. I saw how my marketing programs helped to actually impact lives, in a way that we could not do directly through our business services. And I saw how this resulted in a depth of customer and employee loyalty that I could not have bought through the most glamorous advertising campaign. Authenticity and community-focus worked. It connected with hearts, and as a natural result, it built belief and loyalty in our brand.
Through Magnet 360 and other roles, I had a lot of experience in corporate generosity through services donations and fundraising events. But, at this stage of my life and career, I wanted to get more hands on with the causes I was supporting. So I launched Two Or More with a focus on hands-on volunteerism. That's not to say that we won't add in fundraising or other event formats in the future. But for now, my passion is to get business people out into the community, serving shoulder to shoulder.
Q: One of the biggest things I've learned through Small Business Revolution – Main Street is that seemingly small efforts can have a ripple effect on communities. Have you found that when business people come together to perform volunteer projects for Two or More, their efforts create a ripple effect too?
A: Absolutely! I am a huge believer in the multiplier effect that happens when two or more people come together around a good cause. It's amazing what we can achieve when we combine our values, passions, energy, and time. Something really special happens in the context of service that doesn't happen at a typical business or networking event. Conversations take a different shape. Relationships move beyond the day to day. We find a much deeper and more meaningful common denominator. We show up as a more true, authentic version of ourselves. Volunteerism is a great antidote to the tension and divisiveness that so frequently fills our newsfeeds. In serving others, we reconnect with our shared humanity, and we gain a broader world perspective. It's a humbling and beautiful thing.
Through Two Or More, our goal is to discover and acquaint business professionals with great causes in every corner of the metro area, so they can get inspired and stay involved individually, as families, and through their personal and professional networks. We aim to create a volunteerism movement that cascades far beyond our events. And we hope to inspire business leaders to make generosity a core pillar of their corporate culture.
Q: Have you been surprised by the interest you've received from people wanting to give back?
A: I've been thrilled with the individual response to the first year of Two Or More events. Our community continues to grow, and we've had fantastic repeat attendance by many volunteers. But what has been really surprising, and inspiring, has been the business response to this movement. Our first event was very informal. After we volunteered, we all went to a nearby restaurant and everyone paid their own tab. The very next day, I got a message from a business leader who had attended, and who wanted to be more involved. Their business offered to sponsor the next volunteer happy hour, and that was the beginning of an informal sponsorship program that has grown organically. This entire movement has been a leap of faith, and I'm continuing to trust that individuals and businesses will keep raising their hands to serve and support these great causes. I'm excited to see what happens next!
Q: More companies are talking about doing good, but it's often little more than lip service. I advocate for how important it is to take "brand purpose" and turn it into actual brand action. How important do you think it is that companies move beyond basic philanthropy and actually get involved in advocating for and making the lives of their customers better?
A: In the work that we do through Authentic Brand, we often consult with growing B2B businesses on their brand and messaging strategies. In our messaging workshop, we always ask the question: How do you improve the life of your buyer? Often, this question will stump the executives in the room. They can tell us how they improve their buyers' businesses, but improving their lives feels like a foreign concept. Whether your brand is B2B, B2B2C, or B2C, it is selling to and serving people. And people make decisions based on emotion. These people — whether business leaders or individual consumers — have access to more information and options than ever before. They have plentiful choices. So if your brand isn't connecting beyond their purse strings to their heart strings, your relationship is at risk. Brands who aspire to survive and thrive must be grounded in customer relationship, and that relationship has to be deeper than the transaction.
Q: What's the best piece of advice you ever received from a female mentor?
A: My grandmother was not a business woman, but she was one of the wisest and most foundational female mentors in my life. Whenever I had a problem in a relationship, regardless of who was right or wrong, my grandmother's answer was always, "Forgive them." I didn't realize then just how powerful this advice would be in my life and my career. But learning how to forgive has saved me from multiple experiences that could have caused me to become stuck and bitter but instead have become catalyst opportunities to grow and get better.
Q: I think you are a rock star in the business world. If you were a regular rock star, what would be your stage (or band) name?
A: Well, my friends call me JZ, but I hear that a version of that stage name is already taken. So maybe I'll go with "Catalyst."